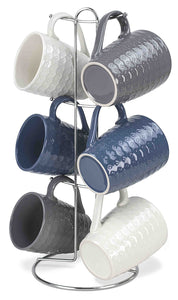 Brand: Home Basic
Color: Navy, Gray, White
Features:
THIS HOME BASICS 6 CUP MUG TREE IS ADDS A Fun Way To Organize and Display Your Mugs Stylishly and Decoratively
MADE FROM HIGH QUALITY CERAMIC Won't Chip or Break Easily and Will Keep your beverage Nice and Hot
A MUST HAVE FOR TEA AND COFFEE LOVERS This 7 Piece 11 Ounce Capacity Mug Set and Stand Will Satisfy Everyone
MUGS HAVE A UNIQUE DESIGN WITH A COOL TEXTURED FINISH-Each Set includes 2 Navy Mugs, 2 Gray Mugs, and 2 White Mugs
PERFECT PRESENT IDEA THIS HOLIDAY SEASON Surprise Your Friends, Family, Coworkers, Etc. They Will Love This Set All Year Long
Publisher: Home Basic
Details:
Enjoy a delicious cup of coffee or Tea with this beautiful Home Basics 6 cup mug set. The 11-Ounce 6 Cup Mug Set with Rack is a beautiful set that includes two mugs in each of the following colors: Black, Gray and White.
This Home Basics 6 Cup Mug Tree comes is made from high quality ceramic material and has a textured finish for unique and cool design. On busy mornings, never worry about not having enough mugs for everyone's cup of morning coffee. Mugs are microwave and dishwasher safe.
Mug tree is made out of heavy duty chrome stand. This Home Basics Mug Set is a fun and practical way to organize and display your mugs. Perfect for everyday use, it can be used for coffee, tea, hot chocolate, soup and more.
What's included in the box:
Chrome finish mug tree
2 Black 11 Oz. Mugs
2 Gray 11 Oz. Mugs
2 White 11 Oz Mugs
UPC: 886466446473
EAN: 886466446473
Package Dimensions: 15.1 x 6.7 x 6.4 inches