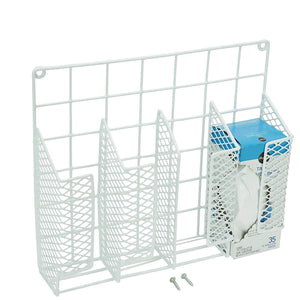 Brand: DecorRack
Color: White
Features:
Great Value! Set of 2 Kitchen Door Mount Organizers Measures: 13.5 x 12 x 3.5 inch
Rust-Free Sturdy Steel Wire Shelve with White Plastic Coating, Durable Construction, Lasts Forever
Increase Your Storage Space with Mountable Organizing Rack. Mount to wall, pantry, cabinet door
Great for organizing your plastic wrap, foil, wax paper, sandwich bags Cleaning Supplies, Bottles and much more!
Keeps Your Kitchen Cabinets Organized, Helps to Keep Your Kitchen Items and Cleaning Supplies Neatly Arranged in Cabinets and Under the Kitchen Sink
Publisher: DecorRack
Details:
__________________________________________________
D e c o r R a c k
Cabinet Door Mount Kitchen Storage Organizer Basket, Wrap Organizer Rack, Space Saving Drawer Grid Holder for Cleaning Supplies, Bottles, Steel with White Plastic Coating
Measures: 13.5 x 12 x 3.5 inch
STURDY DESIGN: Our storage organizer basket is made of steel with a rustproof, white plastic coating. Built to last for a lifetime
Keep plastic wrap, aluminum foil and wax paper out of the way but organized and handy.
Holds up to 4 standard-sized rolls.
Extra-large size is perfect for use as a cabinet door organizer in base cabinets and under countertops
Grid pattern is lightweight and easy to clean
__________________________________________________
Package Dimensions: 15.7 x 12.1 x 3.9 inches