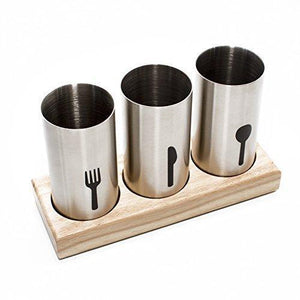 Brand: Blissful Home
Features:
ATTRACTIVE MODERN DESIGN: Made from high quality stainless steel and rubber wood base which is designed to look attractive and complement other stainless steel kitchen appliances. This stainless steel Caddy will last a long time! unlike ceramic, glass or plastic ones which can easily get damaged.
REMOVABLE THREE COMPARTMENTS: You can easily organise your spoons, forks and knives into seperate labeled holders. Each holder is 2.5 inches in diameter and can easily accommodate a large number of silverware. Thanks to the wooden base moving silverware between the kitchen and dining table is very easy.
EASY TO CLEAN: The stainless steel compartments can be removed from the base making it easy to clean and maintain.
GREAT GIFT: This makes a great gift all year round - Great for housewarming, bridal shower, wedding registry, christmas, holidays, birthdays and more!
100% SATISFACTION GUARANTEE: If you have any issues related to the product then please feel free to reach out to us and we will get back to you within 24 Hrs. If you are not satisfied with the product, please let us know and we will send you a refund
Details: Do you like being organised in the kitchen?

Are you tired of your flatware being all over the place? Are you tired of unattractive and low quality cutlery caddies?

Are you looking for a quality utensil holder or cutlery caddy?

Are you interested in items that would just go well with other appliances in your kitchen?

INTRODUCING YOUR VERY OWN TOP QUALITY STAINLESS STEEL CUTLERY CADDY FROM BLISSFUL HOME.
UPC: 643690932048
EAN: 643690932048
Package Dimensions: 9.4 x 6.3 x 3.5 inches