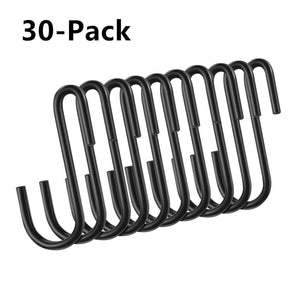 30PC Roontin S Hooks, Heavy Duty Hangers, Metal Iron Hanger S Hooks 30 Pack Black - for Hanging Pots and Pans, Coffee Mugs, Utensils, Clothes, Jeans, Towels in Kitchen and Closet Shelf
Product Features
BEST HELPER FOR KITCHEN: This is the best S hooks' design for hanging pots, pans, bowls, spatulas, coffee mugs, kitchen utensils etc on shelves and racks tightly. With the help of this design, your kitchen will be more clean and tidy.
BEST PRICE AND HEAVY DUTY: In order to make them more heavy duty, durable and rust resistant, we product these S hooks with chromed stainless steel which is better from other sellers. Each S hook can offer strong support for your iron pans or other heavy utensils/tools in every scenes such as kitchen, bathroom, closet and other outdoor scenes. With 30 pcs in one pack, we can offer you a better price than other sellers.
SUITABLE FOR DIFFERENT NEEDS: These Super S hooks are design to fulfill different situation and needs. These can be used in both indoor and outdoor! For indoor needs, they can be used to Hang pans and pots, spatulas, coffee mugs, hand towels, potholder and other kitchen utensils. For outdoor needs, they can be used to organize tools, plants and even bird feeder in your garden etc
SUITABLE FOR ALMOST ALL RACKS AND SHELVES: With the size of 2.4" in length, 2.25" in width and 0.14" in diameter, These S hooks fit almost all rods, racks and shelves. The color of these S hooks are also suitable for all kitchen racks and closets.