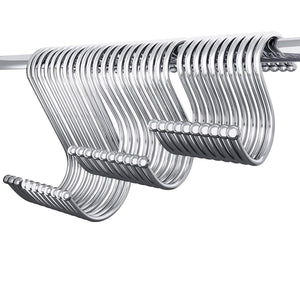 30 Pack Premium Round  Kitchen S Hooks Heavy Duty S Hanging Hooks Hangers Stainless Steel S Shaped Hooks in Polished Metal for Hanging Pots, Pans, Utensils, Tools, Plants, Clothing,Towels

Specification:
Color: silver
Material: stainless steel
Size:Â 7 cm, 8 cm, 10 cm

Package:
10 pcs * 7cm S shaped hanger
10 pcs * 8cm S shaped hanger
10 pcs * 10cm S shaped hanger  
 
Features:
1. Don't let clutter distract you from the task at hand and take up your precious time. With the utility steel hooks you be clever and save space in your home.
2. The stylish looks and sliver color can match well with almost any style kitchen racks and closet.
3. These metal hooks are a simple yet brilliant storage solution for any kitchen or work area where space is limited. Ideal for kitchen, bathroom, bedroom, garden, office and more!
4. The large S hooks are made of metal, strong and can withstand weight; Curved hangers securely hook the items and do not slide off easily.

Your experience with our closet hook is our top priority. If you shall have any concerns, send us an e-mail and we will get back to you within 24 hours.

May you a happy shopping!
Product Features
SIZE: These S hook hangers are divided into 3 different sizes, 2.75 inch, 3.15 inch and 3.94 inch (7 cm, 8 cm, and 10 cm) in length, each size 10 pieces, 30 pieces in total, fit almost rods/racks without worrying too small or shallow, strong enough to hold heavy items.
MULTI-PURPOSE: Set of 30 pcs premium S hooks, can meet all your needs of storage solutions for your apparel, kitchenware, utensils, plants , towels and gardening tools at the meantime! They can be used anywhere you need them.
HIGH QUALITY: These round S hooks are made of premium stainless steel, durable and rust resistant, can offer sturdy support for your iron pans or other heavy tools.
PRACTICAL & CONVENIENT: Super practical stainless steel S hooks! One of the great things about heavy duty S hooks is that they are not limited to a specific area of your home, it can be used both indoor and outdoor in any weather condition!
SAFE TO USE: There is no need to worry with tools or fret over putting holes in your beautiful walls. Our S shaped hooks easily hang on existing racks, bars, and shelves without the need for nails, screws, or adhesives.